Have you been using the many promotional items that we have? There are lots of items that can be used to stimulate interest in Young Living business or products. If you have attended any of Young Living conventions you know they always give you a really nice bag with the Young Living logo and other things like a spiral notebook and pen. These items can be used in your marketing but there is more to it than you think.


Do not miss out on these opportunities to use promotional items. They do stimulate interest but there is another important thing you are doing with all of these techniques. You are reminding people that you use Young Living Oils and you have an oils business. I do this EVERY SINGLE TIME I am with anyone. You won't have a conversation about oils or the business every time you use a promotional item but you are always reminding people that you do oils. The more you do it, the more people will remember you when the time is right for them.

Pay close attention to Young Living's Seasonal Catalogs. They are often filled with gift ideas that have the Young Living logo on them. These things make great promotional tools.
This is why I always have product placements throughout my house. I use oils in front of people all the time. It opens the door to many conversations about the oils.


I set up the product placement page so we can put some ideas together for team members. There are lots of great ideas to remind people that you have an oils business.


Here is a neat item I picked up at YL convention a few years ago. It's a pen with a perfume sprayer that can be filled with oil. Pretty cool! I wish we could still get these.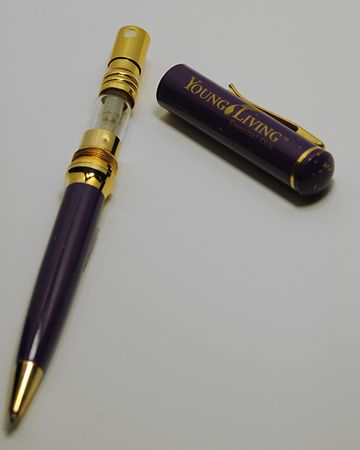 They always have cool promotional items in the Product Expo at convention. I have picked up coffee mugs, shirts and hats, a jacket, grocery shopping bags, awesome water bottles a calculator and pen set plus several other things.


One of the bags I got now serves as my laptop bag. I like it better than the one I got for my laptop because of the beautiful Young Living logo on it.


The point I am trying to make here is that we always need to be aware of opportunities to let people know what we do. We all have a lot of these tools in our possession but are we using them? I have to admit, there have been times I grabbed plain ole mugs instead of my beautiful Young Living mugs.


Always in marketing mode. 😉