Time sure flies. It is hard to believe that winter is over and spring is here. Pretty soon we will see the flowers blooming and the trees waking up. Spring is a time where we start feeling revived and energized. Why not channel some of that energy into your business. This is a good time to make a plan for the next quarter of the year.


I always recommend to write out your goals. Write some long term goals but also goals for the next 3 months. Each week, write a list of action steps that you will do that will help you get to your longer term goals for your Young Living business.


You must make a plan and then WORK YOUR PLAN! I see far too many distributors sign up who seem to think that all they have to do is join, get a web site and their business will build itself as if by osmosis. Sorry to burst anyone's bubble but that's not how business of any kind works.


Your Young Living distributor web site is sort of like an island in the middle of the ocean. If you don't show people the way to your web site, no one will find it. People will either follow a link to your web site or type in the address from something YOU gave them. There is no other way. The nice thing is, with a little work, you can set up routes to your web site that will be in place even when you are doing other things. That way, your business is working whether you are working, playing or sleeping.


You need to be using 3 to 5 marketing techniques to build the business at all times. Even if you plan to do most of your marketing by face to face talking to people, keep it centered around your web site. The web site can be working, even when you are not working. When you talk to people you come across in a day's travels, you should be giving people you talk to something with your web site on it. People can go to your web site later and get more information. Some will even sign up right away if you give them a way to do so.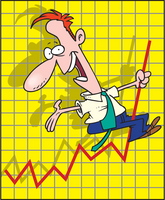 It's all a numbers game. The more people you talk to the more success you will have in your business. The more people you lead to your web site, the more people you will talk to. I recommend using both online and offline marketing.


Decide how fast you want to move your business forward. How many people will you talk to each day? How many bits of information will you give out with your web site on it? You can do this in a lot of ways. If you have a Facebook business page, share oil tips and connect with people online. If you have a blog, do at least one or 2 blog posts a week and share them on your Facebook page an other social media. If you are marketing offline, the key is to have some information to share and give it out liberally.


I love using "leave behinds." Leave behinds are bits of information that will continue to work once you have left the conversation. It could be a brochure or a flyer. It should be something that will get them thinking about why they need Young Living Products. An example is the booklet, Rub A Dub. Is there Cancer in Your Tub?" You get the idea. Look for brochures and prospecting tools that get the prospect thinking about how Young Living Products will be a great benefit to their family.
Leave behinds are great for those days when you are in a hurry and don't have time to get into lengthy conversations. Also goof for those days when you are not in the mood to talk to anyone. 😉 I have left many leave behinds with a hefty tip at a restaurant or hotel.
Make sure you put your web site and contact information on anything you give out!


Take MASSIVE Action. If you don't take action, NOTHING will happen. Actually you need to take appropriate action. Some people fiddle with this and that doing "business tasks" and are not really doing action that amounts to making progress.


ACTION, ACTION, ACTION!!


Every morning ask yourself, "What can I do today to MOVE my business forward toward the success of my goals for my Young Living business?" What can I do today to get more people to my web site? What can I do to get more new Young Living members?