Lately I have the music from the new Lego Movie rolling around in my head. You have probably been hearing it a lot too. "Everything is Awesome."


I decided to do a search to see what the words to the song are. The music makes me happy and feel like dancing. When I searched I found a YouTube video so I could hear the words to the full song. The words are very good and just the type of music I like to listen to when I need a motivating mood uplift.


Here are a few words from the song: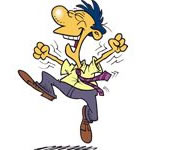 Everything is awesome
Everything is cool when you're part of a team
Everything is awesome
When we're living our dream


Everything is better when we stick together
Side by side
You and I
Gonna win forever
Let's party forever


Even when negative things happen:


Have you heard the news everyone's talking
Life is good 'cause everything's awesome
Lost my job, there's a new opportunity
More free time for my awesome community
I feel more awesome than an awesome possum
Dip my body in chocolate frosting
Three years later wash off the frosting
Smelling like a blossom, Everything is awesome
Stepped in mud, got new brown shoes
It's awesome to win and it's awesome to lose



Your attitude affects the energy you are radiating when you talk to people and how they react to what you are saying. People will be more inclined to listen to a person who is radiating a happy attracting energy rather than one that is negative.


Your attitude affects your abundance. It affects your motivation. It affects how you work in your business. It affects everything!


Think about the way you greet people. A while back I wrote the article: How Do You Respond When Asked "How Are You?" I have heard all kinds of negative responses varying from "I'm fine" to "Not so good" or even much worse.


I used to say similar negative responses until I realized how powerful our words and feelings are and how much those things affect our success. Now I say something that will be uplifting to the other person but also to me. The words we use either bring us up or down. Every time we say something negative or complain about something, we are reenforcing that negative feeling in us. Even saying "I am fine" is one I like to avoid. I would rather say, "I am awesome." Or something similar. Try it. Those words lift you up. Saying "I am fine" is sort of neutral. It does nothing to improve things. People say they are fine when they really aren't feeling fine. Try saying "I am awesome" when you are in a group where you might get asked that question several times. I always find my mood lifting each time I say it.


Your attitude is very important to the amount of success you will have in your Young Living business. The words you use. The way you react to little set backs. The failures and little set backs are learning experiences. In my 17 years with Young Living I have see so many distributors give up because of setbacks, not knowing how to build their business and various other things that boil down to attitude. The only failure is giving up.


Don't give up!


We are all different in our marketing styles. There are all kinds of ways to succeed in this business, even for people who don't feel like sales people. Try different things until you find the marketing that fits your style.


I am reminded of Thomas Edison's famous quote: "I have not failed. I've just found 10,000 ways that won't work."


Listen to the music, Everything is Awesome" on YouTube.


Don't give up!