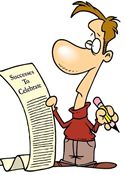 Hard to believe it is the beginning of another new year. This is the time of year that people set new goals for the upcoming year. I'm not one for New Year's Resolutions. People usually don't take those seriously, however, I am a firm believer in setting goals and making action plans to achieve those goals.


Every year it is a good plan to look back at the previous year and think about different things that have happened up to this point. Reflecting on both the good things that happened and things that weren't so good. Don't spend much time on the things that weren't so good but just enough time to take note of anything that you learned or ways you could get a better outcome.

Not only is it important to be regularly analyzing things and improving as we go, it is also important to express Gratitude and celebrate the successes of the previous year. Celebrating is really important because it sets a success energy that attracts more good things. I recommend you
use Young Living Gratitude Essential Oil Blend while you are doing this
. Gratitude oil has a very abundance attracting energy.

Three Reasons to Reflect on and Celebrate Success:


1. We train our subconscious to be aware and open to success and abundance.
2. We give our subconscious and conscious mind PROOF of our success and progress.
3. It builds self-esteem, confidence and belief in our abilities.


Some things to include in your reflection:


Any successes large and small. Even the things you consider small. Some of these small successes are stepping stones to larger successes.


New things you learned – This is a huge one that people often forget to include. Reflect on all the training you have taken, books you have read, videos & audios and live events you have attended, anything that has been good for growth in your personal development or business skills. Really celebrate this one knowing that training and personal development is the biggest success secret of network marketing professionals who earn full time income.


Don't forget the things you learned by trial and error. Like when you began learning to write a blog or make a video.


There are lots of things you can add to your list. I recommend writing down your reflections. If you have been following my training for any length of time, you should have this done from previous years and have saved them. If so, take out some of your past years reflections and look at the progress over the years. This is really fun.


Reflecting on the progress you have made builds confidence. When I look back on the early days, when I was afraid to step into the leadership role, I am amazed at how far I have come. Network Marketing is the best business for personal growth and with Young Living we have awesome essential oils that enhance progress in so many ways.


After you have finished reflecting on the previous year, you can make a plan of action for the upcoming year. What will you do to increase your business? How will you improve on your marketing skills and what will you do to implement. Think about where you want to be at the end of this year. Write that down. Then make a list of all the things you plan to do to get there.


Writing all of this down is very important. It helps you have a direction for the year. Keep a copy of both the reflecting of the previous year and the plan for next year. It is really empowering to look back at the things you have accomplished in the past and how far you have come, especially when you have the notes for several years. You can see your growth over the years which is such a confidence booster.


It is also good to reflect on your WHY. Why you are building this business.
Click image to make it larger.

For more, read "How Strong is Your Why?"

Take Action. If you don't take action, NOTHING will happen. Actually you need to take appropriate action. Some people fiddle with this and that doing "business tasks" and are not really doing action that amounts to making progress.


ACTION, ACTION, ACTION!!


Every morning ask yourself, "What can I do today to MOVE my business forward toward the success of my goals for my Young Living business?" What can I do today to get more people to ask me about essential oils?

Tagged with: business plan • essential oils • goals • growing business • plan • success • tools • young living