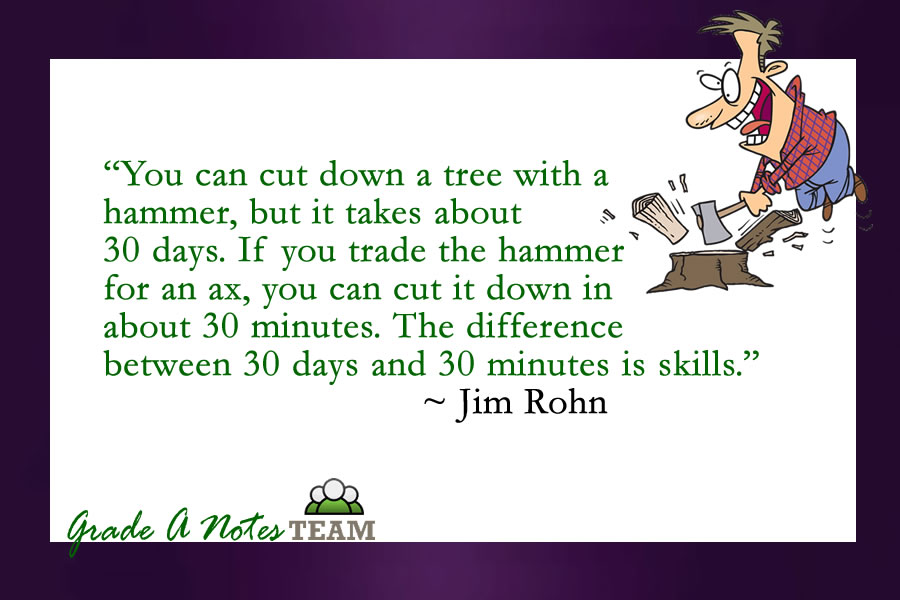 "You can cut down a tree with a hammer, but it takes about 30 days. If you trade the hammer for an ax, you can cut it down in about 30 minutes. The difference between 30 days and 30 minutes is skills." – Jim Rohn


Leaders are readers and readers are earners. Even distributors who are already very successful still continue to read books, listen to audios, take online training courses and go to seminars and workshops to sharpen their skills. If you would like a full time income in Young Living, you need to think and act like a professional. Professionals are always sharpening their skills. Are you sharpening yours?


In the beginning network marketing can feel a little out of your comfort zone. If you spend a little time every day reading and listening to audios. Your comfort zone will expand. Attend events, seminars and workshops and you will sharpen your skills even more.


One way to sharpen your skills is to hang around people who are successful in the business. Observe what they do. Listen when they speak. Follow them on Facebook and other social media and observe how they connect with people. Pay attention. You can learn a lot from other leaders in Young Living.


Keep up with things that are going on in the company and with anything that affects your business. It's no different than any other profession like accountants, lawyers, people in the medical profession, hair stylists, etc. You have to keep up with any changes going on. There are always changes. There are new ways to market and promote your business. Eighteen years ago, when I began building my Young Living business, we did not use social media. Today it is a big part of both business building and training downline. Times change.


Have fun learning, growing and sharpening your network marketing skills.